caught by the VW bug?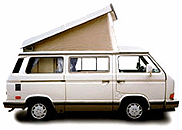 Whilst living in Australia I tried out the camping-from-the-boot experience, looking jealous at the super-duper vanagons that also stayed overnight in the bush, desert and highlands of remote Australia. On return to Europe I soon fell in love with these dinky cars. Why? the sowing-machine noises from the engine compartment? the clumsy look? Or a vague sense of Sixties relic? I do not know.
Perhaps because you can make a cup of soup when caught in a traffic jam, or even have a quiet shit...
Perhaps because you can travel in the luxury of an ordinary car, yet camp anywhere as if you had a caravab..
Perhaps because it force you to ride your bike around the campsite arteas rather than park yoir fat bum in another carseat..
When we started the family, we soon caught the bug. At first we revamped a Peugeot van during the summer months, but then we caught sight of a genuine T3. It took us to Germany, Austria, Italy and back. Although we continually battled against rust, engine trouble, fining LPG gasstations, electrical failure, there was a point in 2001 when we found we could no longer do what we wanted to do: move about.
We found Theo in Wageningen, we did us a great deal on a 1996 T4 camper, and the price was reasonable. Unfortunately, only 3 months later this T4 was stolen from our house, containing all camper gears and many toys the boys had collectd throughout the years. Heartbroken we returned to Theo, who offered a high top T4 in return. Our first trip was to the locksmith to get extra locks and fancy alarms fitted. This one took us towards France, Austria, Italy and Germany over 2002.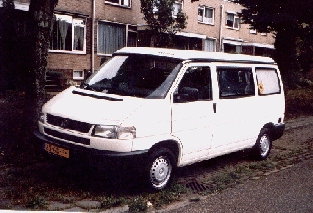 In 2003 we thrundled allong France properly, this time going to Avignon and surroundings, and staying in various villages on the way. Nimes is good fun, but also wothwhile is Langres, where city campsite is found on the parapets. Great sunsets.
In 2004 it was Austria and Switserland. Best spots were near Munter, with a ski lift nearby, a great valley and of course a gold filled Rhine. Very popular spot with great trails. But also stop on the various passes. Above the Rhone gletscher are plenty of spartan campspots, allowing great views of the night and a close taste of fresh snow.
In 2005 we move house and probably will not move out far nor often.
---
VW hobby sites
---

For Comments, email to: ton.ammerlaan@ft.han.nl
This page was accessed 346 times since it was first modified in Feb 2001


GO TO Ammerlaan's Homepage
_